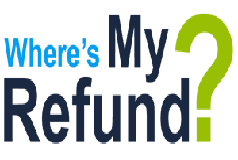 Are you expecting a tax refund and would like to be able to track it?
The IRS is offering it's "Where's My Refund" tracking tools again this year. There are two ways you can track your refund:
- IRS2GO Mobile App (Apple) or (Android)
- IRS "Where's My Refund" Website
Both are available 24 hours a day, 7 days a week. You can start checking on the status of your refund within 24 hours after they have received your e-filed return or 4 weeks after you mail a paper return. The tools are updated once a day so you don't need to check more often than that.
To use the "Where's My Refund?" tools, taxpayers need to have a copy of their tax return for reference. Taxpayers will need their social security number, filing status and the exact dollar amount of the refund they are expecting.
The IRS issues 9 out of 10 refunds in less than 21 days. Where's My Refund? has a tracker that displays progress through 3 stages: (1) Return Received, (2) Refund Approved and (3) Refund Sent. You will get personalized refund information based on the processing of your tax return. The tool will provide an actual refund date as soon as the IRS processes your tax return and approves your refund.
Caution: Don't count on getting your refund by a certain date to make major purchases or pay other financial obligations. Even though the IRS issues most refunds in less than 21 days, it's possible your tax return may require additional review and take longer.
If you are expecting a refund from the State of Missouri you can track it through the Missouri Return Inquiry System.